I loved Pearl Lowe's collection of vintage inspired tea dresses from last year. I know its a bit old hat and so last year, but I picked two up in the sale yesterday for £9 each! :)
It has a beautiful 40s land girl feel, the sleeves give that 40s squared shoulders look, the fabric is a light and floaty crepe, with beautiful rose print.
I just wish they were longer, this one comes just on the knee but the other one is mid-thigh. Not sure to keep it or not
Dress,Pearl Lowe for Peacocks, £9!!
Shoes, Peacocks (walking ad for Peacocks today, did you know it was my first job when i was 16!)
Tights, Primark, because its bbrrr cold!
Flower, Primark
Pearls, Primark
Ring, Primark
Pug... Mine!!!
Close up of the fabric
Here are a few more images of Pearls collection from last year to drool over!
This the other one I picked up for £9!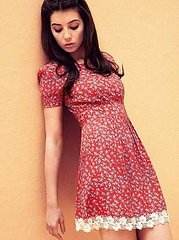 Holly has good taste in dresses :)